Victory Knives
Victory Knives Skinning knife 14cm, hang-sell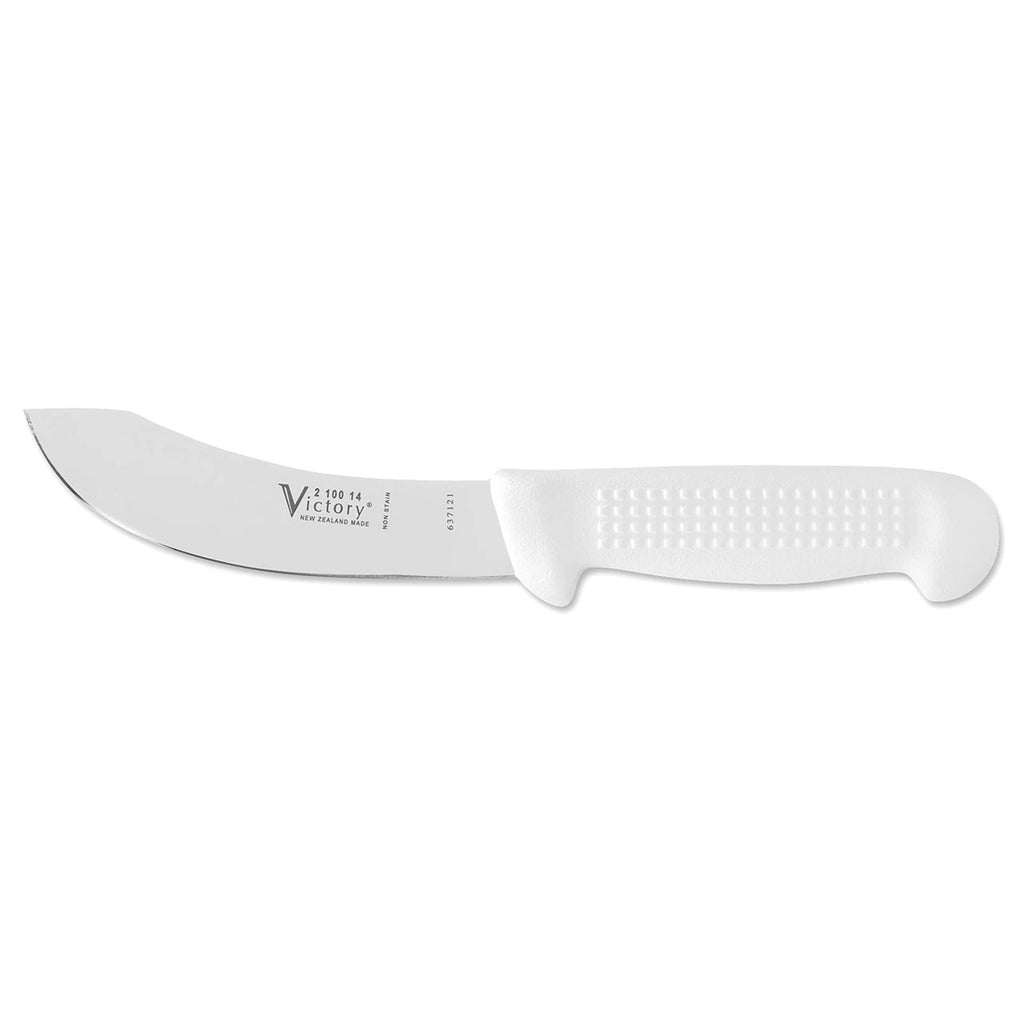 Victory stainless steel blades have a sub zero (-80 degrees) quench after hardening to provide a strong durable blade that is highly resistant to corroding while also improving its edge retention.

The handle features a robust and practical design to ensure a solid grip during use.

This skinning knife is widely used throughout meat processing plants for slaughter and skinning of beef and lamb.

Features:

Blade length: 14cm
Blade material: Krup stainless steel
Hardness: 54-55 HRC
Handle: White plastic handle with ridged grip

Victory Knives have a proud heritage stretching from 1927 until today. Edward Goddard a master cutler from Sheffield, England migrated to New Zealand and began designing and manufacturing knives in 1927. World War II was a significant period in the history of E, Goddard which became a major supplier of combat knives for the U.S. Army and for the last few years has also been manufacturing knives for the Australian Defence Force.

E.Goddard made and sold knives under the brand Victory and over the many years Victory Knives has grown to be synonymous with high quality and robustness by industry professionals who are very demanding of their tools. All major meat and fish processing companies in New Zealand and Australia use Victory Knives and commercial divers, all over the world, request the Victory Diver Knife. Victory continues to thrive by maintaining the highest standards in manufacture and materials, building on its reputation for unsurpassed quality.

The stainless steel blade is made from German Krup steel, hardened to a hardness of 54-55 HRC. The Victory stainless steel blade has a sub-zero (-80¡C) quench after hardening. The benifit is a strong, hard and wear resistant blade with increased corrosion-resistance and improved edge retention. The handle is robust and practical and designed to give sure grip. The blade and handle are MDA and FDA approved.


Code :

TOW649

MFR

V210014115P

Usually ships in:

Approx 10 working days.
More from this collection
×