Maserin
Maserin 2028/OL carving knife 27cm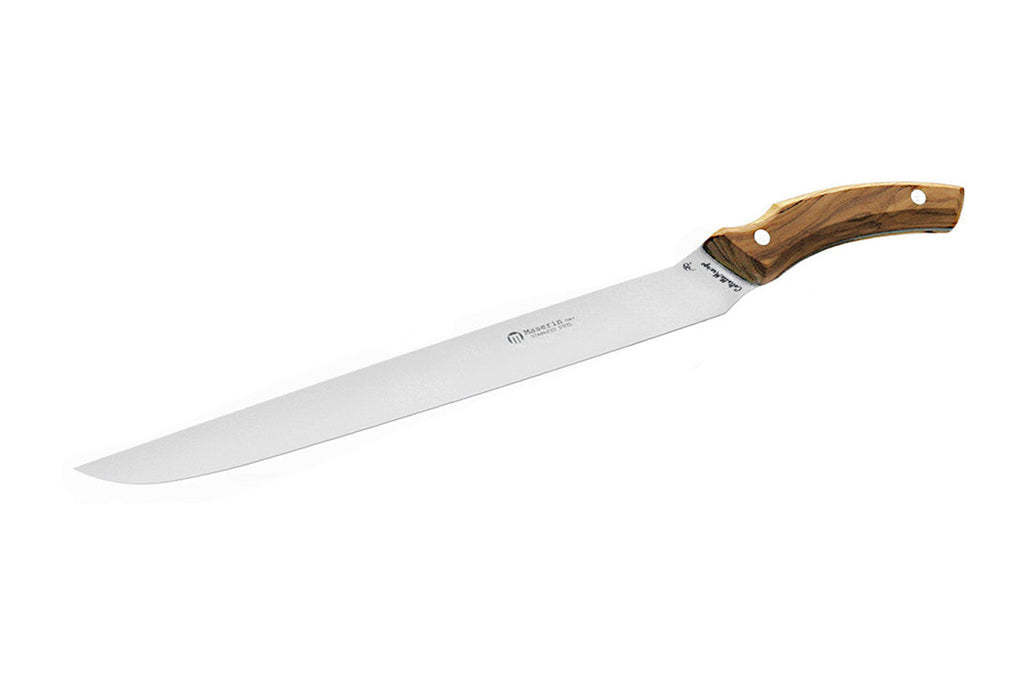 This new kitchen line created by Coltellerie Maserin is the result of careful study of materials and ergonomics applied to kitchen tools. The blades are cut by laser machine, they are made of steel with high carbon components, their sharpen edge is perfect and long-lasting. Their olive wood handles have a very ergonomic shape that guarantees a perfect grip and an elegant look. They are all finished by CNC machine. All the knives are packed in a nice gift box of recyclable cardboard with a satin plastic cover.

Their award-winning design was chosen to represent the important relationship between Quality Maniago and the well-known Montasio Cheese.

Handle: Olive wood
Lenght: 27 cm
Blade: AISI 420 stainless steel HRC56
Packaging: gift box

Maserin Coltellerie has been producing knives since 1960 in Maniago Italy, a city that is known as the city of knives. Our father Fervido founded the company. He was born in 1934 and started working at the age of 14 as a worker in a factory that produced knives, scissors and tools for agriculture. At that time there was no time for fun only for work, fom the morning till night all week long and Saturdays as well. Fervido also had to work in the fields to help his parents. Following military service, he started his small classic spring knives. From then on orders poured in and he had his first workers and the product line grew. In 1985 our father built a 3,000 square meter factory which we are still using today.

We are also pround of the fact that Maserin Coltellerie was the first company in Italy to start a corporation with Italian knife makers.

All of the Maerin family work and contribute to our family company. Our mom, Olga, also worked in the company. From our earliest beginnings, weve been able to expand our products and the quality of our knives. We want our current and future buyers to recognize our brand as one which produces a very high quality line of superior knives. We have also NATO CAGE AJ988 and UNI ISO 9001 certification. We have our own designs and produce customized products for private label and corporate logos.


Code :

TOW285

MFR

2028OL

Usually ships in:

Approx 10 working days.
More from this collection
×