Marttiini
Marttiin Lapp 235, S/S 11cm blade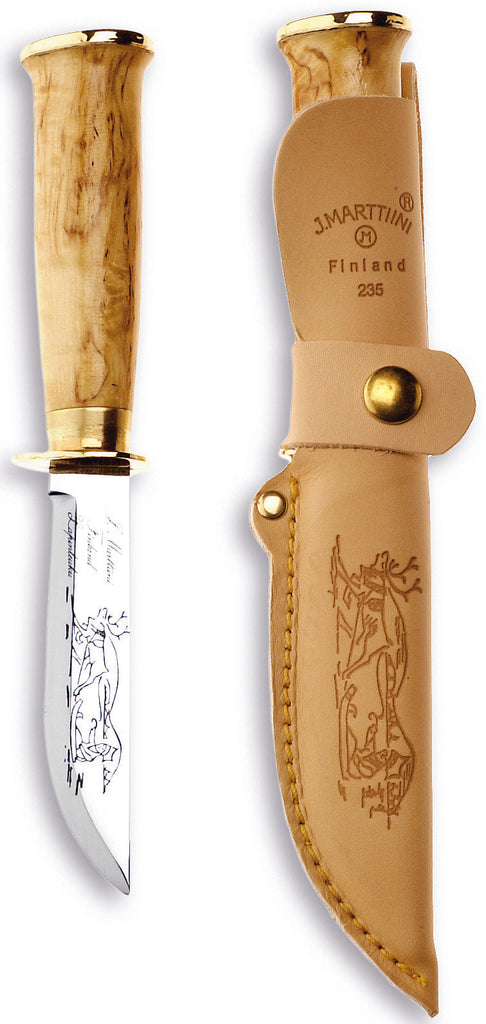 The Marttiini Lapp 235 is a traditional Scandinavian knife made from 420 high carbon steel with a 13% chromium to provide a strong, durable blade that is resistant to rusting.

This traditional design of the blade is suitable for hunting and outdoor activities. Featuring a 11cm long single edged blade this stainless steel knife bears both a dedication to Janne Marttiini but also a striking Lappish themed engraving.

Unlike other traditional Scandinavian knives the Lapp 235 comes with silver finger guard to prevent injury from slippage during use. The handle is made from curly birch with a silver cap at the end to protect the handle.

Overall the total length of the knife is 22cm long and includes a light brown leather sheath with a matching Lappish engraving and a snap closure to secure the knife in place when carried.

Features:

Blade length: 11cm
Blade material: 420 high carbon steel
Handle material: Silver and curly birch
Total length: 22cm
Sheath material: Ligh brown leather

It all began in 1928 in the land of dark winters and the midnight sun when Janne Marttiini, a blacksmith, decided to establish a knife factory in Rovaniemi, in Finnish Lapland. With the user in mind, he began to create beautiful, high quality utility articles to be used in the harshest conditions imaginable. Two of Jannes sons carried the business through to its sale to Rapala in 2005.

The blades of Marttiini outdoor knives are made from 420 steel with 13% chromium and have a HRC of 53-34. Today, Marttiini knives are still manufactured at the Arctic Circle.

They are a combination of generations of craftsmanship and modern technology that create knives that are not only sharp but also represent the beauty and toughness of the North.

Marttiini gives its products a 3-year warranty that covers material and production defects. Damage due to misuse is not covered by warranty. the warranty of Martinef coating is 12 months.


Code :

TOW229

MFR

MA235010

Usually ships in:

Approx 10 working days.
More from this collection
×