MAM Knives
MAM 175mm Professionals cooks knife santoku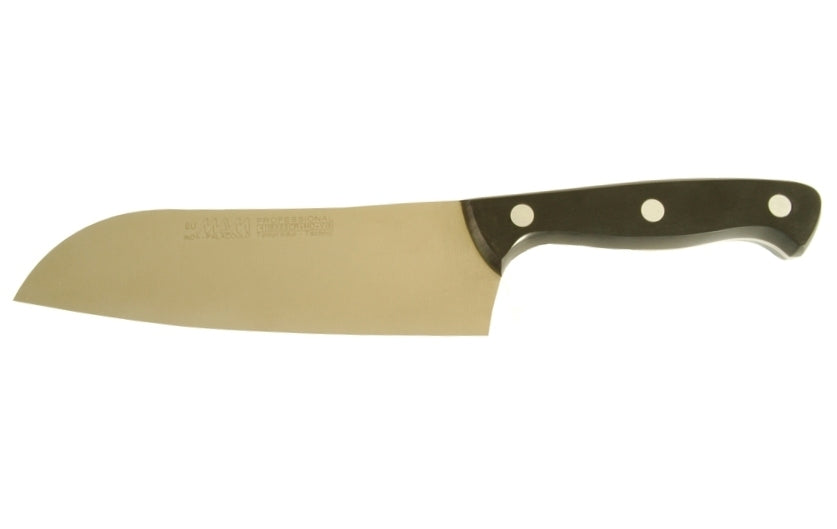 Developed with 150 years of experience in the manufacture of knives. The MAM cooks knife is a sturdy 175mm long kitchen knife attached to a black magnum handle that is suitable for chopping fruits and vegetables and cutting up fish with ease.

Before leaving the factory the blade is hand sharpened to guarantee the quality of the blade while the handle has been shaped to fit comfortably inside the users hand.

Due to changes at MAM the gold MAM brand stamp is no longer included on the knife handle.

The kitchen knife features:

Made in Portugal.
175mm Stainless steel blade.
Single beveled blade.
Full tang black handle.

MAM FABRICA DE CUTELARIAS FILMAM Lda is a cutlery company from Portugal, working since 1870 with an international scope and one of the oldest knife and cutlery manufacturers in the world. MAM FILMAM Lda guarantees a top quality product backed by a 10 years warranty. All materials used in the creation of our products are of the highest quality certificed and specially tested. We use high quality German stainess steel that has been made specially for us using molybdenum, vanadium, siliceous and carbon. Only with all these ingredients together and our special tempering process can we produce extremely strong and flexible knives blades with a 57 degree ROC.
Code :

TOW213

MFR

MAM_701

Usually ships in:

Approx 10 working days.
More from this collection
×