MAM Knives
MAM 75mm Douro pocket knife with black titanium blade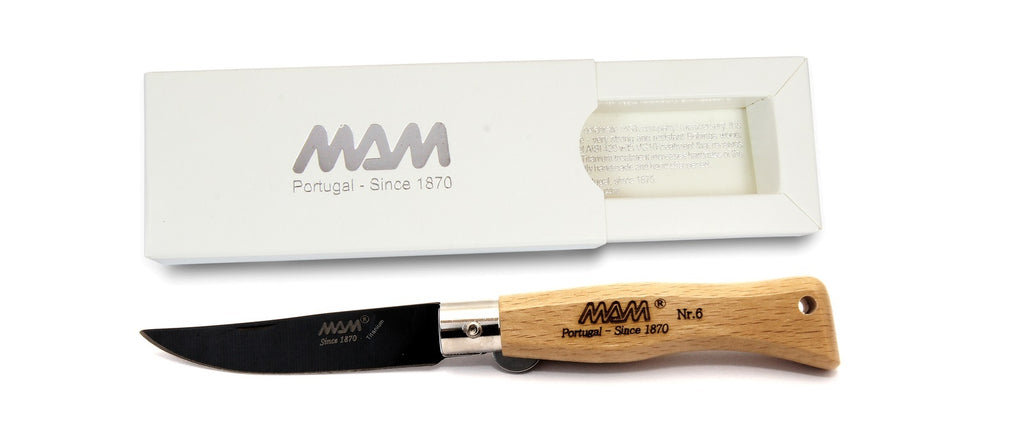 The Douro black titanium pocket knife was created with 150 years of experience in the manufacture of knives the Douro pocket knife features a timeless look and quality that is hard to find in todays world.

It is suited for a multitude of tasks from peeling fruit, opening boxes or as a general utility knife for your next camping trip. The Douro is a light weight knife that sits comfortably in your pocket or attached to your keys thanks to its compact size.

The hand sharpened blade is made from German AISI 420 stainless steel that has been treated with a titanium finish to give the blade its blackened appearance as well as increasing the blades hardness by 2 Rockwell degrees.

When in use the blade locks in place thanks to a patented inbuilt liner lock that will keep the blade secure until you are ready to close it.

When locked into place the liner lock gives of a crisp clicking sound.

Douro pocket knife features:

Made in Portugal.
75mm AISI 420 stainless steel blade.
Inlaid blade lock.
Bobinga wood handle, giving the Knife a more comfortable grip and feel of quality a synthetic handle cannot achieve.
Leather sheath

MAM FABRICA DE CUTELARIAS FILMAM Lda is a cutlery company from Portugal, working since 1870 with an international scope and one of the oldest knife and cutlery manufacturers in the world. MAM FILMAM Lda guarantees a top quality product backed by a 10 years warranty. All materials used in the creation of our products are of the highest quality certificed and specially tested. We use high quality German stainess steel that has been made specially for us using molybdenum, vanadium, siliceous and carbon. Only with all these ingredients together and our special tempering process can we produce extremely strong and flexible knives blades with a 57 degree ROC.
Code :

TOW206

MFR

MAM_5004

Usually ships in:

Approx 10 working days.
More from this collection
×