Albainox Knives
Albainox coloured S/S blade, 7.5cm, G10 handle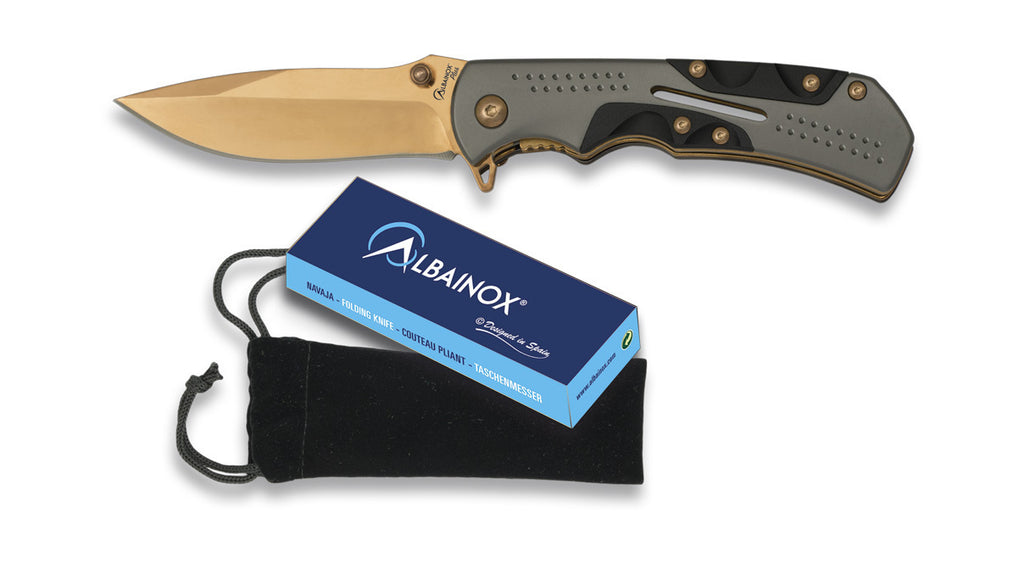 The AL18138 pocket knife is a strong and durable single bladed folding knife suitable for your everyday needs.

Designed in Spain the AL18138 uses Albainoxs G10 handle and a 7.5cm long stainless steel blade with a copper finish to achieve a solid design that is easy to use and carry while opening boxes or cutting cords.

To help prevent injury the base of AL18138s blade becomes a finger guard when opened to prevent the users hand from slipping down the blade.

The AL18138 comes with a velvet pouch for the knife.

Features

Blade length: 7.5cm
Blade material: Acero Inox (3cr13 Copper)
Handle: G10
Total length: 18cm

Albainox is based in Albacerte, Spain, where in1990 Mr. Jose Martinez started his commercial activity, mainly distributing traditional cutlery and other ornamental products. Albainox, is determined to be at the cutting edge of todays market by investing and developing in new designs and models.

The current market demands a continuous evolution of development and modern techniques and technologies, but Albainox also continues to be loyal to their humble beginnings.
Code :

TOW2

MFR

AL18138

Usually ships in:

Approx 10 working days.
More from this collection
×