Laguiole En Aubrac
Laguiole En Aubrac Paring Knife - Walnut Wood 10cm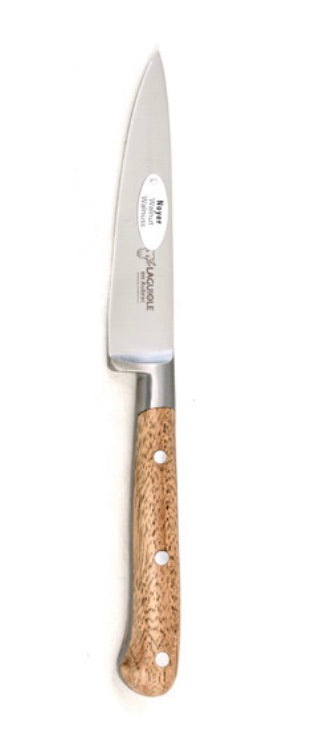 Individually handcrafted and guaranteed for life, the prestigious French Laguiole en Aubrac range is synonymous with superb quality and intricate detailing.

Each knife is assembled by a single craftsman in Laguiole, France. This guarantees that each knife has its own unique quality, for everyday use, generation after generation.

The Blade Ð Forged out of 440 steel, the blade is incredibly strong, sharp, and will never rust.
The Handle Ð Handcrafted in exotic wood, horn or bone. Each stainless steel spine displays unique symbols that are distinctive to the particular craftsman who made it - En Aubracs trademark for authenticity.

To make En Aubrac kitchen knife it will taken anywhere from 109 to 216 production steps.

Made in France (Not all brand of Laguiole are made in France but En Aubrac are)

In this model the handles are made of Walnut wood. Walnut wood is dark, dense and tight-grained and is prized by woodworkers for its strength, colour and ability to be shaped into elaborate curves. It polishes to a very smooth finish, and over the years will develop a lustrous patina. Walnut wood has been crafted since the Victorian era and will always be an enduring favourite.
Code :

laguiole-en-aubrac37

MFR

CUI10NOI

Available in :

Only availabe in selected stores
More from this collection
×