King of Knives
26 PCS Picture Photo Frame Wall Set Home Decor Present Gift Black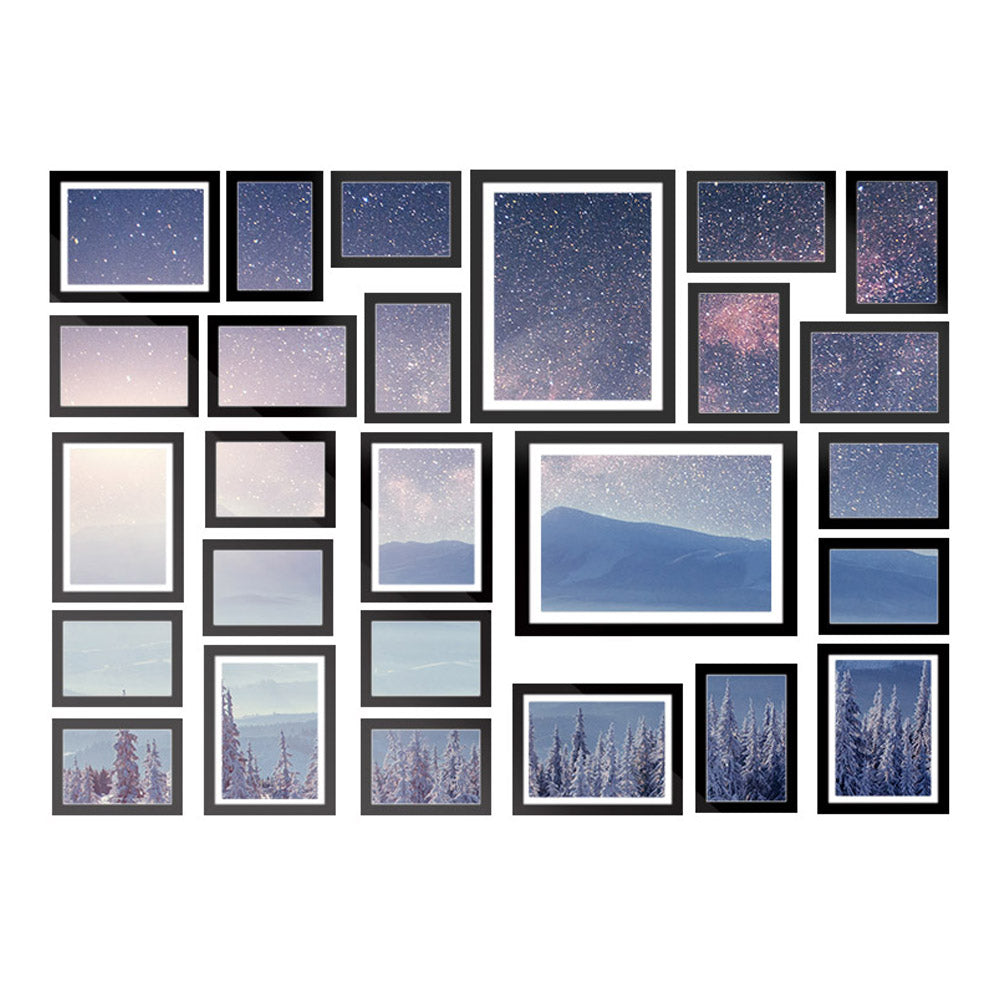 Every picture tells a story. And we are sure your extensive photo collection has lots to tell. So why not frame up the interesting ones on the wall and share the stories behind them to friends and family. You can do that beautifully with our charming Photo Frame Set. Available in a set of 26, our set allows your walls to be graced with fascinating stories and memorable moments from your treasured photographs. Arrange them in any way you like. Portrait or landscape, the framed photo feature wall is a conversational piece in its own right. Suitable for a range of photograph sizes from 3R to 8R, the frames feature a durable polymer construction with a polystyrene glass to keep your prints in good shape. The hardboard backing is also moisture-resistant. Hanging accessories are also included with your purchase.
Features:
26-piece set
For 3R, 4R, 5R, 6R and 8R prints
Durable polymer frame
Smooth finishing
Polystyrene glass
Moisture-resistant hardboard
Protective effect
Portrait or landscape
Hanging accessories included
***Note: Frame C and D only:
White border removable to fit in different size of photos
Specifications:
Brand: Artiss
Frame A x 12pcs
Frame B x 7pcs
Frame C x 5pcs
Frame D x 2pcs
Frame material: Polymer
Frame thickness: 1.5cm
Glass material: Polystyrene glass
Shape: Rectangle
Colour: Black
Frame sizes:
A: 15cm x 11cm (3R photo)
B: 17cm x 12cm (4R photo)
C: 20cm x 15cm (3R, 4R or 5R with black border removed)
D: 27cm x 22cm (6R or 8R with black border removed)
Assembly Required: No
Please note: This item comes in 1 package
Product Contents:
1 x 26PCS Photo Frame Set
28 x S-Shape Hanger
28 x Seamless Nail
1 x Spirit Level
1 x Assembly Sheet
Code :

DSZ7

MFR

PFS-26F-BK

Usually ships in:

Approx 10 working days.
More from this collection
×