Giesser
Giesser Yobocho No 1 Spicy Orange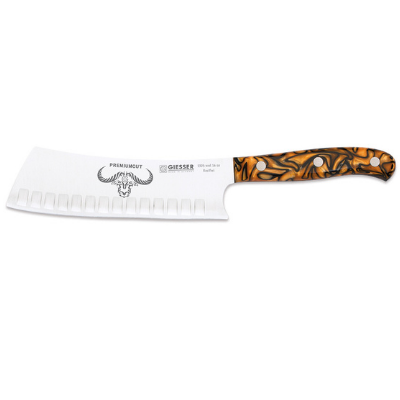 Scalloped edge
The scalloped edge ensures better incision. The blade slides through each cut with less friction. This enables fatigue-free work and protects the cutting edge.
Scalloped edge
Handle made of high quality acrylic
Spicy Orange
Very exclusive is also the handle. The plates are made of high quality acrylic. Each  handle is unique, the shape of the handle is precisely adapted to the needs of the user. Therefore, the cooking knife is perfect in the hand and supports safe cutting in an excellent way. This special and valuable cooking knife should always be rinsed with care by hand and stored safely (out of the reach of children).
Code :

Giesser19

MFR

1925 s wwr 16 so

Usually ships in:

Approx 10 working days.
More from this collection
×